Project release: Class 555s access platforms
For Stadler rail we had the honour to design and supply new access solutions, specifically optimized for the newest Class 555s train. We delivered the following stands:
Door Entry access platforms
Nose access platform
Our access platforms will be used for manufacture, inspections and maintenance and ensure safe access for mechanices and engineers to the Class 555s train. View the delivered platforms below.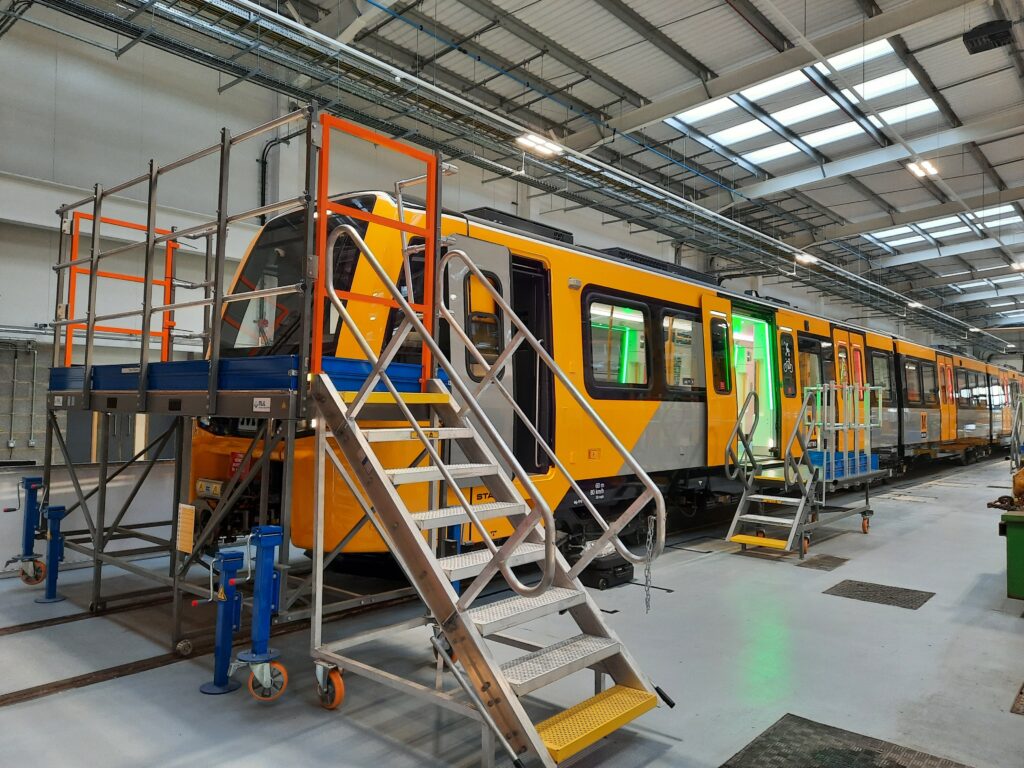 Discover more NIJL access solutions for rail assembly, inspections and maintenance.
Key Features & Benefits NIJL access platforms
Mobile or stationary platforms
Fixed or adjustable height
Flexible railing solutions for perfect fit
Sliding floors to close gaps between work platform and rail vehicle
Ergonomic design
Reduced footprint
Choice of decking options
Painted in customers choice of colour
Optimal mix of steel and aluminium to keep weight to a minimum while retaining total stability and safety
Custom made access platforms
Custom made access platforms play a crucial role in train maintenance and assembly, facilitating safe and efficient access for mechanics to train carriages. The platforms are positioned at a suitable height to ensure optimal accessibility on the one hand, on the other hand it minimizes falling risks. In order to prevent mechanics from falling the platforms are equipped with anti-slip surfaces, safety fences and handrailings.
By ensuring secure access to train carriages, all the NIJL platforms enhance worker safety, accelerate maintenance procedures, and contribute to the overall efficiency of train manufacturing and service operations.
We customize the access platforms for any type of rail vehicle and we optimize it to make it meet all your specific requirements. We have the capacity to manage every aspect between design and installation, relieving you of the entire process. Please contact us for more information.